Ante Oculos – Epicurus and The Evidence-Based Life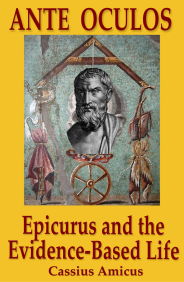 A major project of NewEpicurean.com is the free ebook "Ante Oculos – Epicurus and The Evidence-Based Life."  The primary purpose of this website is to promote the study of the philosophy of Epicurus, and the purpose of the ebook is to provide ready access to core concepts of his teachings.  Each section of the outline is annotated with hyperlinks to an Appendix, which contains a selection of the most important surviving texts from the Epicurean period.  We invite you to download the ebook and hope it will assist you in your own study of the Nature of Things.  Ante Oculos can be viewed here or directly on the SMASHWORDS page, and may also be downloaded from this direct link:   AnteOculos.Epub
Free editions are also available on Barnes and Noble and other major ebook retailers.  All are free, so don't pay any fees!
The first edition of The Evidence-Based Life was released on January 1, 2010, and was updated to a second major revision on November 7, 2010.  Unfortunately much editing remains to be done, but hopefully the current in-progress version will be useful while work continues.  Please let us know if you find errors, and corrections will be incorporated into future editions.   Note that the ebook is organized with hyperlinked endnotes, and the recommended format for obtaining the latest version is by obtaining from Smashwords or by direct download here
---
Moderated comments are invited on the Comments page.  Interested readers are also invited to submit suggestions for future editions, and join us in further conversation, by posting to the Forum or emailing Cassius@NewEpicurean.com.