Program Released for the 2012 Panhellenic Symposium on Epicurean Philosophy – Athens, Greece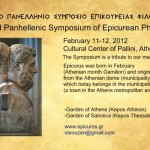 WOW I wish I were going to this:
The Friends of the Epicurean Philosophy "Garden of Athens" and "Garden of Salonica" are organizing
the 2nd Panhellenic Symposium of Epicurean Philosophy under the auspices of the Municipality of Pallini
in Athens, Greece.
This philosophic symposium has two goals:
a) to honor the great humanist and enlightening philosopher Epicurus at the place of his origin and
b) to publicize an eternal way of mental armoring against psychopathology.
Epicurus had ingeniously understood the nature of universe and humans, since modern science findings fully sustain the validity of the basic points of his Physics and Ethics teachings.
Epicurus' eternal humanistic message expresses in the simplest and truly holistic way the meaning of happy life, which may be achieved by anyone even in difficult times, if someone combines the personal virtue of prudence to handle objective knowledge, as well as the sharing good of friendship.
---
Second Symposium of Epicurean Philosophy
Cultural Center of Pallini, Athens
February 11-12, 2012.
Cultural Center of Pallini, Athens.
KLEITARHOY & ARISTEIDOY STR. GERAKAS
Free entrance
Contact us ideoszen@gmail.com
SECOND PANHELLENIC SYMPOSIUM OF EPICUREAN PHILOSOPHY
Program
February 11, 2012
THE PHILOSOPHY OF EPICURUS
THE QUEST FOR TRUTH
Life of Epicurus
Encomium to Epicurus (Recitation of verses from Lucretius' poem "De rerum natura")
Canon: The basis of scientific method
Physics: Atoms and Void
Thoughts on the epicurean stance of living
Interval
THE QUEST FOR SOURCES
The Epicurean philosophy in Erculaneum
Scenes from the epicurean movie "Black sheep" (director T. Marangos, filmed in Italy)
Interval
THE ART OF HAPPY LIVING
Facing death with Epicurean philosophy
Desires and politics
Friendship as a major good
Discussion
Actual symposium (dining and drinking) in a local tavern with music
February 12, 2012
EPICUREAN PHILOSOPHY FROM ANTIQUITY TO OUR TIMES
EPICUREANS IN ANTIQUITY
Epicurean critique on idealistic philosophies
Asclepiades of Bithynia, the epicurean physician
The sculpted words of Diogenes of Oenoanda
Lucretius, the epicurean poet
Interval
Lucretius' "Hymn to Aphrodite/Venus" (song and music performed by an ancient greek ensemble)
THE ETERNAL VALUE OF THE EPICUREAN PHILOSOPHY
The epicurean poet Kavafis
Thomas Jefferson, the epicurean leader
Denis Diderot, the epicurean publisher of encyclopedia
Epicurean views on art
The epicurean view on human soul
Epicurean views on economy
Discussion