New Location For Core Reference Texts – Epicureandocs.com
This is to announce the launch of my latest website – Epicureandocs.com.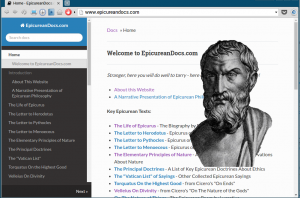 The purpose of this new site is to improve my ability to provide reliable and easy access to the core reference material to which we constantly refer as we study Epicurus.  I have traditionally used Epicurus.net or Epicurus.info for stable links to the core texts, but the untimely death of Erik Anderson and the changes to his website (it can now located at Epicurism.info or this address at archive.org) have convinced me to revise my own citation method.  Epicurus.net remains on-line and an excellent resource, so my intent is not to duplicate that but to provide a wider selection of material with deeper citations and topical hyperlinking.
I will continue to use my WordPress-based NewEpicurean.com as my main blogging and communication platform, but this new change will allow me to break free of the limitations involved in using WordPress pages.  I have long felt the need for stable URLs and a corresponding system of easy-to-use hyperlinks, and the "MKDOCS.org" engine that I am employing at Epicureandocs.com will allow just that.
I frequently have the need to locate memorable passages in the core texts, and without a vigorous system of hyperlinking and indexing I have found that hard to do.  The new website will have a minimum of graphics and multimedia, and concentrate on providing the core texts in an organized way.
Virtually all of the material now located at NewEpicurean.com will remain in its current location, but from here I will focus my effort on polishing and organizing the texts at the new site.  Please feel free to email me or post at the Epicurean Philosophy Facebook Group any comments or suggestions you have for future development of the new site.