Behold the Face of a Gleeful Epicurean: Norman Wentworth DeWitt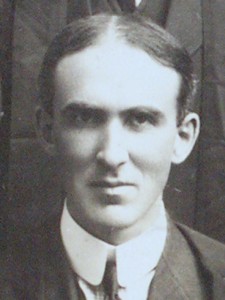 Readers of the NewEpicurean blog will know the great esteem in which I hold the work of Professor Norman W. DeWitt, author of Epicurus and His Philosophy.  Neither that work nor St. Paul And Epicurus contain much biographical information about DeWitt, and until today I had never seen a photo of him.  Through the power of the internet I have now been able to locate two photos that are part of the archives of Victoria College in Toronto, Canada.  I take great pleasure in adding them to this blog in gratitude for all the service DeWitt performed toward preserving the philosophy of Epicurus during his lifetime.
The first photo, at left, shows DeWitt seated with the 1912-1913 Victoria College Glee Club.  The photo is described with Dr. N. W. DeWitt as "Honorary President."
The second photo, below, was taken ten years later, and is part of a 1922 "Class Executive" group photo.  DeWitt is again in the center, and again is listed as "Honorary President."
Both photos reveal a penetrating glance and a slight grin — just what we might expect from someone who devoted much of his adult life to studying, organizing, and writing for popular consumption about the philosophy of Epicurus.
As I write this blog entry I am unable to find a copy of the obituary I have seen in the past, but I will work to retrieve that and create a separate page on Dr. DeWitt in the future.  I know that he was president of the American Philological Society in 1947, and that he eventually moved to the United States where he passed away in 1958, but I have few details about his life beyond his two books on Epicurus and the many articles he published on Epicurus that are available through JSTOR.
Whether or not you agree with all his opinions about Epicurus, in his day Dr. DeWitt served as the foremost proponent of the continuing relevance of the philosophy of Epicurus in the English-speaking world.  I, for one, am very grateful for his legacy of Epicurean scholarship.
From now on, readers of this blog and DeWitt's work will be able to put a face to this very distinguished name.