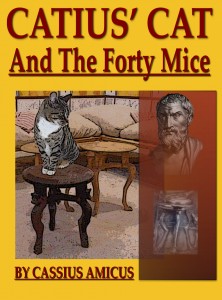 I have now completed a second "Epicurean poem for children of all ages," and I submit it for the reading and listening pleasure of the Epicurean public at the links below.
I wrote Thus Purred Catius' Cat as an overview of basic tenets of Epicureanism for readers who come at the subject with little or no background.  With that foundation hopefully laid, this second poem introduces Epicurus' Forty Authorized Doctrines.  I have attempted to place them in focus as I think they were intended:  as a memory tool useful for giving the student a command over the most important elements of the doctrine, thereby enabling him to build confidence and strength in applying the whole.  Because references within this poem are a continuation of the first, readers are advised to review Thus Purred Catius' Cat before tackling this edition.
Once again I want to apologize that I am neither a poet, nor an artist, nor probably a particularly deep thinker.  I claim only to be someone who is very impressed by the ideas of Epicurus, who thinks that they deserve a wider audience, and who is making an effort to do the best he can with the limited talent he has available.
I am providing links to the ebook (epub) edition and to the video versions below.  Currently the video is available only on Vimeo, but I hope to have this on Youtube very soon.
Before going further, I want to note that I have dedicated the first edition of this poem in part to Jaakko Wallenius, with whom I first came into contact through his Being Human blog and his work on Facebook.  This small gesture is a way of thanking him for his long efforts in spreading Epicurean and other philosophical ideas, especially through his setting up of the original Epicurus Facebook page that has been so helpful to me personally.  Over these last several years, Jaakko has shown the sort of Epicurean strength that I am working to highlight in this second poem.  Although I am not a close personal friend and I do not know the details, I do know that Jaakko has diligently pursued his philosophical interests even while suffering from a very difficult health situation.  Jaakko has shown real dedication to the pursuit of truth, and I trust he will continue that work for many years to come.
As I indicated earlier, I hope to expand the project to release the Catius Cat poems as a dedicated website, but that remains a work in progress.  As an experiment in expanding the circulation of "Catius Cat and the Forty Mice" and "Thus Purred Catius' Cat, I have posted both to Amazon.  On the theory that many people believe that something that is free cannot be any good, I am also experimenting with a small price for these two books.  I will probably adjust the pricing over time, but I want to emphasize that I don't want a fee to stand in the way of anyone learning more about Epicurus.  If you are reading this and want a copy of the epub for personal educational purposes, please simply email me and I will be glad to assist.  Of course also please keep in mind that the full text is in the post below, as well as in the video!
A video version which contains the text read aloud by a very good computer voice, is below.

Catius Cat And The Forty Mice from NewEpicurean on Vimeo.
For those who have not previously viewed the first installment of the Catius' Cat series, here is the first poem, Thus Purred Catius' Cat:

The full collection of Cassius Amicus Ebooks on Smashwords is available at this link.