Gassendi's Epicurus in English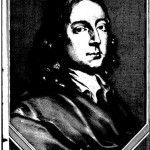 In 1660, Thomas Stanley published "A History of Philosophy," Volume Three of Which Contained "Epicurus, His Life And Doctrine" Written By Petrus Gassendus." This is of interest for many reasons, not the least of which is that this version would likely have been prime reference material for Thomas Jefferson and others of their age in their study of Epicurus.
I have been looking for this for quite some time, and earlier this year I was able to obtain an electronic copy of the version on file with the British Museum. I have posted a copy here at Archive.org. If you get that version and the download is not bookmarked, try this link instead.
I have only had a brief opportunity to scan through this to prepare the table of contents, but it looks very interesting. Keep in mind that this is an English translation of a Latin original, and Gassendi himself is often writing his own commentary, which is subject to error. Below the images that follow is a transcribed "Table of Contents." This was written, as I understand it, before the discovery of the Vatican Sayings, and the texts of Philodemus at Herculaneaum, and presumably even before the face of Epicurus was confirmed. Thus the book contains the etching below which is clearly NOT the face of Epicurus. At any rate, I hope you enjoy access to this copy!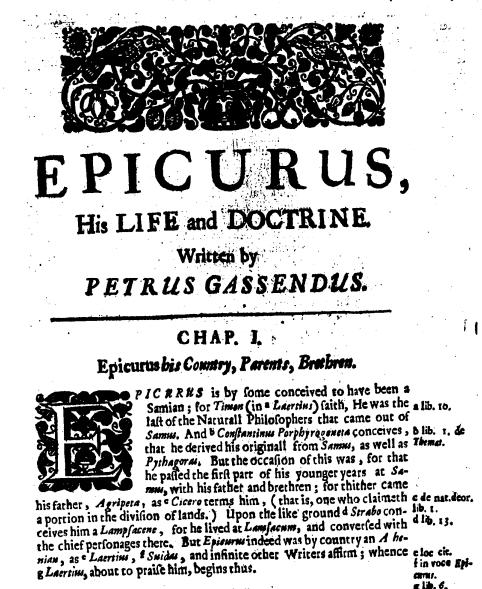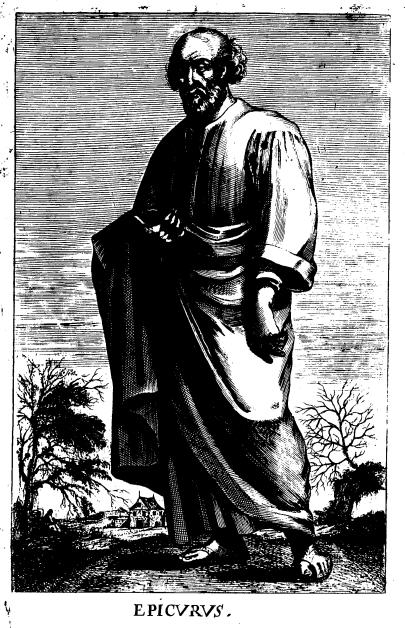 The Doctrine of Epicurus – Of Philosophy In General………… 31

Epicurus – His Life And Doctrine – Written By Petrus Gassendus……………. 7

Epicurus – His Country, Parents, Brothers.. 7
The Time of His Birth……… 8
Where He Lived In His Younger Time……… 9
His Masters……… 10
When, and Upon What Occasion, He Addicted Himself to Philosophy, and Instituted a Sect…… 11
His School………. 12
How He Lived With His Friends 12
His Friends And Disciples….. 13
How Much He Wrote… 16
What Writings of His Are, Particularly, Mentioned By Authors….. 17
His Will……….. 21
The Manner of His Death…… 22
The Time of His Death…….. 23
How Dear His Memory Was To His Followers.. 24
With What Constancy, And Unanimity, the Succession of His School Flourished… 25
The Successors and Followers of Epicurus.. 27
Laertius, His Vindication of Epicurus….. 27
The First Part of Philosophy – Canonick, of the Criteries.. 33

Of Truth and Its Criteries 33
Canons of Sense – The First Criterie… 34
Canon 1 – Sense is Never Deceived, and therefore every sensation, and every perception of an appearance, is true.
Canon 2 – Opinion Follows Upon Sense, and is Superadded to Sensation, and Capable of Truth or Falsehood.
Canon 3 – All Opinion Attested, or not contradicted by the evidence of sense, is true.. 37
Canon 4 – An Opinion, Contradicted or Not Attested by Evidence of Sense, is False…… 38
Canons of Praenotion or anticipation, the Second Criteria….. 39
Canon 1 – All Anticipation or Praenotion which is in the mind depends on the senses, either by Incursion, or Proportion, or Similitude, or Composition 39
Canon 2 – Anticipation is the very notion, and (as it were) definition of the thing, without which, we cannot enquire, doubt, think, nor so much as name any thing……….. 39
Canon 3 – Anticipation is the principle in all discourse, as being that to which we have regard, when we infer that one is the same or diverse, conjoyned or disjoyned from another……. 40
Canon 4 – That which is manifest ought to be demonstrated out of the anticipation of a thing manifest 40
Canons of Affection of Passion; the Third Criteria.. 41
Canon 1 – All Pleasure which hath no pain joined with it is to be embraced 41
Canon 2 -All Pain, which hath no pleasure joined with it, is to be shunned 41
Canon 3 – All Pleasure, which either hindreth a greater Pleasure, or Procureth a Greater Pain, is to be Shunned… 41
Canon 4 – All Pain, which either putteth away a greater pain, or procureth a greater Pleasure, is to be embraced.. 41
Canons Concerning the Use of Words….. 42
Canon 1 – When thou speakest, make use of words common and perspicuous, lest either thy meaning not be known, or unnecessarily waste time in explication…….. 42
Canon 2 – When though hearest, endeavor to comprehend the power and meaning of the words, lest either their obscurity keep thee in ignorance, or their ambiguity lead thee into error….. 42

The Second Part of Philosophy – Physick , or, of Nature…. 43

Sect. 1 – Of the Universe, or the Nature of Things….. 45
1 – That the Universe Consists of Boday and Vacuum, or Place. 45
2 – That the Universe is Infinite, Immoveable, and Immutable. 46
3 – Of the Divine Nature in the Universe……….. 48
4 – Of First Matter, Or, Of the Principles of Compound Things in the Universe………. 50
5 – That there are Atoms in Nature, Which are the Principles of Compound Bodies…….. 51
6 – Of the Properties of Atoms, And First, of their Magnitudes………… 52
7 – Of the Figure of Atoms………… 53
8 – Of the Gravity (or Weight) and Manifold Motions of Atoms. 54
9 – That Atoms (Not the Vulgar Elements or Homoiomeras) Are the First Principles of Things……….. 56
10 – Of the First, And Radical Cause of Compounds, That Is, Of the Agent, Or Efficient. 57
11 – Of Motion, Which is the Same With Action, Or Effection; And of Fortune, Fate, End, and Sympathetical and Antipathetical Causes…… 58
12 – Of the Qualities of Compound Things In General 60
13 – Qualities from Atoms Considered, According to their Substance, and Interception of Vacuum……. 61
14 – Qualities Springing from Atoms, Considered According to the Properties Peculiar to Each……… 62
15 – Qualities from Atoms, Considered According to their Properties, Taken Together…. 63
16 – Of Those Qualities Which Are Esteemed the Accidents of Things; and Particularly, of Time…….. 65
17 – Of the Generation and Corruption of Compounds. 66
18 – Whence it Comes, That A Generated Body Is in a Certain Kind of Things, And Distinguished From Other Things… 68

Sect. 2 – Of the World……. 69
1 – Of the Form and Figure of the World………… 70
2 – Of the Late Beginning of the World 71
3 – Of the Cause of the World……… 72
4 – Of the Generation of the World…. 73
5 – Of the Vicissitudes In the World.. 75
6 – A Digression, Concerning Genii or Daemons…… 76
7 – Of the End or Corruption of the World………. 77
8 – Of Infinite Worlds… 79
Sect. 3 – Of Inferior Terrestrial Things.. 80
1 – Of the Earth Situate In The Middle of the World 80
2 – Of Earthquakes, and the Flames of Aetna…….. 82
3- Of the Sea, Rivers, Fountains, and the Overflowing of the Nile……… 83
4 – Of the Properties of Some Waters and of Ice…. 84
5- Of things Terrestrial Inanimate…. 85
6 – Of the Loadstone in Particular…. 87
7 – Of the Generation of Animals…… 88
8 – Of The Use of Parts In Animals…. 90
9 – Of the Soul, The Intrinsical Form of Animals… 91
10 – Of Sense in General, Which is the Soul (as it were) of the Soul…… 92
11 – Of Sight, And of the Images Which Glide Into It……… 94
12 – That Seeing is Performed By Means of Those Images……. 96
13 – Of Hearing 97
14 – Of Smelling……… 99
15 – Of Tasting100
16 – Of Touching………100
17 – Of the Intellect, Mind, or Reason, and its Seat………101
18 – That the Soul Thinketh By Images, Which Glide Into It…102
19 – Of the Affections or Passions of the Soul…..103
20 – Of Voluntary Motion, and Particularly, of Speaking and Imposition of Names……..105
21 – Of Sleep and Dreams.107
22 – Of Death..108
Sect. 4 – Of Superior Things, As Well Celestial As Aerial……..110
1 – Of the Substance and Variety of the Stars……112
2 – Of the Magnitude and Figure of the Stars…….113
3 – How the Stars Move, Out-Run one Another, and Are Turned Around……..114
4- Of the Rising and Setting of the Stars, and of the Alternate length of Days and Nights…………115
5 -Of the Light of the Stars and Of the Changes and Spots in the Moon…..117
6 – Of the Eclipses of the Stars and Their Set Periods…….118
7 – Of the Presignifications of the Stars……….119
8 – Of Comets, And those whic hare called Falling Stars……119
9 – Of Clouds..120
10 – Of the Wind And of Presters……121
11 – Of Thunder121
12 – Of Lightning and Thunder-Claps…123
13 – Of Rain and Dew…..124
14 – Of Hail, Snow, and Frost………124
15 – Of the Rainbow and Halos………125
16 – Of Avernall Places..126
17 – Of Pestilence…….126

The Third Part of Philosophy – Ethick or Morals…………127
1 – Of Felicity, Or the End of Good as Far As Man Is Capable of It…………129
2 – That Pleasure, Without Which there is no notion of Felicity, Is in Its Own Nature Good.130
3 – That Felicity Consists Generally in Pleasure…….131
4- That the Pleasure Wherein Consists Felicity Is Indolence of Body and Tranquility of Mind133
5 – Of the Means To Procure this Felicity, and of Virtues the Chief………..135
6 – Of Right Reason and Free Will From Which The Virtues Have All Their Praise136
7 – Of the Virtues In General137
8 – Of Prudence in General…139
9 – Private Prudence………140
10 – Domestic Prudence…….141
11 – Civil Prudence143
12 – Of Temperance in General144
13 – Of Sobriety Opposite to Gluttony…..145
14 – Of Continence, Opposite to Lust……148
15 – Of Meekness, Opposite to Anger…….150
16 – Of Modesty, Opposite to Ambition…..151
17 – Of Moderation, Opposite to Avarice…152
18 – Of Mediocrity, Betwixt Hope and Despair of the Future…….154
19 – Of Fortitude In General.156
20 – Of Fortitude As To Fear Of the Gods..157
21 – Of Fortitude As to Fear of Death…..158
22 – Of Fortitude Against Corporeal Pain..160
23 – Of Fortitude Against Discontent of Mind………..162
24 – Of Justice In General…163
25 – Of Jus (Right) or Just, Whence Justice Is Denominated…….165
26 – Of The Original of Right And Just….166
27 – Between Whom Right And Justice Is To Be Exercised.169
28 – With What Right Justice Is To Be Exercised……..171
29 – Of Beneficence, Gratitude, Piety, Observance……173
30 – Of Friendship.175
31 – Wherein Epicurus, Asserting Pleasure To Be The Ultimate Good, Differs From The Cyrenaicks………..177