Peace and Safety For Your Twentieth of November!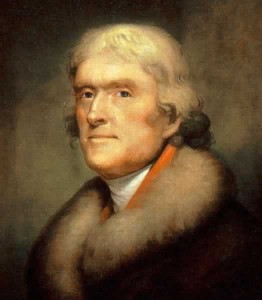 Peace and Safety to the Epicureans of today, no matter where you might be!
Epicurus constantly advised us to weigh and balance our decisions on how to act (or not act) according to the circumstances we confront. For today, I have selected an excerpt from Thomas Jefferson's "I too am an Epicurean" letter of October 31, 1819, in which Jefferson gave advice to a friend who was erring on the side of a type of inaction — or, in Jefferson's word –"indolence":
I take the liberty of observing that you are not a true disciple of our master Epicurus in indulging the indolence to which you say you are yielding. One of his canons, you know, was that "that indulgence which prevents a greater pleasure, or produces a greater pain, is to be avoided." Your love of repose will lead, in its progress, to a suspension of healthy exercise, a relaxation of mind, an indifference to everything around you, and finally to a debility of body, and hebetude of mind, the farthest of all things from the happiness which the well-regulated indulgences of Epicurus ensure; fortitude, you know is one of his four cardinal virtues. That teaches us to meet and surmount difficulties; not to fly from them, like cowards; and to fly, too, in vain, for they will meet and arrest us at every turn of our road. Weigh this matter well; brace yourself up; take a seat with Correa, and come and see the finest portion of your country, which, if you have not forgotten, you still do not know, because it is no longer the same as when you knew it. It will add much to the happiness of my recovery to be able to receive Correa and yourself, and prove the estimation in which I hold you both. Come, too, sand see your incipient University, which has advanced with great activity this year. By the end of the next, we shall have elegant accommodations for seven professors, and the year following the professors themselves. No secondary character will be received among them. Either the ablest which America or Europe can furnish, or none at all. They will give us the selected society of a great city separated from the dissipations and levities of its ephemeral insects.
__________
As Seneca recorded: Sic fac omnia tamquam spectet Epicurus! So do all things as though watching were Epicurus!
And as Philodemus wrote: "I will be faithful to Epicurus, according to whom it has been my choice to live."