Happy Twentieth of January – Join Us Today to Commemorate the Twentieth at Discordapp.com!
Happy Twentieth of December!
For the last several weeks we have been experimenting with closer interaction with our online Epicurean friends, including a "Merry Epicurean 25th" text chat on the 25th of December, and most recently an online voice/text chat to discuss the first chapter of Norman DeWitt's "Epicurus and His Philosophy."  I think the participants in all of those would agree that they were successful tests of the idea of closer friendship through direct online "meetings," so later today we will be holding our first online commemoration of an Epicurean 20th.
Please check the page linked below for the server address to log in.  We are spread across the world and many of our friends join us at odd hours and great inconvenience to themselves.  So far we are finding a start time of 5 PM eastern time (in the USA) gives us greatest flexibility for friends in Greece and even in Thailand to participate.
Please join us today if you can, and we'll give new life to an old Epicurean tradition!  Here is the link for the Epicurean Friends discussion chatroom at DiscordApp.com: either go www.NewEpicurean.com/discordapp or   https://discord.gg/mdQY8WW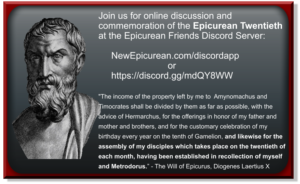 ---
As Seneca recorded: Sic fac omnia tamquam spectet Epicurus! So do all things as though watching were Epicurus!
And as Philodemus wrote: "I will be faithful to Epicurus, according to whom it has been my choice to live."
Additional discussion of this post and other Epicurean ideas can be found at the Epicurean Philosophy Facebook Group and EpicureanFriends.com