Hail to the Friends of Epicurus in Greece!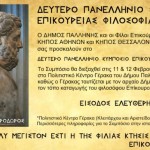 In a recent email from a reader, I learned of the activities of the friends of Epicurus in Greece, and I must say they seem to be thriving better than I might have imagined.   The email (slightly edited here) contained the following information that should be of interest to the worldwide fans of Epicurus:
The Friends of the Epicurean philosophy have two internet sites in use (unfortunately only in Greek), corresponding to the two circles existing in Athens and Thessaloniki:

In February 12-13, 2011 we organized the First Panhellenic Symposium of Epicurean Philosophy in the Cultural Center of Pallini, Athens.  Epicurus was born in February (Athenian month Gamilion) and originated from the Athenian deme (municipality) of Gargettus, which today belongs in the municipality of Pallini (a town in the Athens metropolitan area). The Symposium was a tribute to our master Epicurus and covered the following topics:

 February 12, 2011: The philosophy of Epicurus

Life and Epistemology of Epicurus
Ethics of Epicurus: The art of happy living

 February 13, 2011: The Epicurean philosophy from antiquity to our times

Epicurean Theory and Practice
The Eternal Value of the Epicurean philosophy

It was a great success, with over 30 speakers and several hundreds of attendants.

See here the corresponding site

.   The result was a book containing all the oral presentations.

The mayor of Pallini came for a while to hail the Symposium and he was so impressed that he counseled all his other obligations (it was Saturday) and stayed for five hours to listen to the presentations and discussions! He proposed that such a Symposium should be organized every year in the same place and time. Although we previously were thinking to have the Symposium organized on a different Greek city every year, we accepted his proposal.

Therefore, we are currently organizing the Second Symposium of Epicurean Philosophy in the Cultural Center of Pallini, Athens (See the attached advertisement "Afisa2") on February 11-12, 2012. Its main theme is Friendship (Filia) but we will discuss all important aspects of Epicurean philosophy, as well.

My dream would be to organize an international conference of Epicureans someday. We will see…
I found Google Translate to be of some help in reading these sites in English, but regardless of whether one knows Greek or not, it is good to know that there remains much active interest in Epicurus' home country.