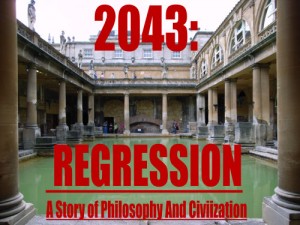 Few things are more helpful and important in encouraging the study of Epicurus than the preparation of new creative material exploring Epicurean themes.  Today I want to point you to a new work-in-progess that shows tremendous promise:  "2043:  Regression" by our Epicurean friend in England, Mequa.  Part One is now complete, with Part Two in progress.  I think you will agree that the idea and the plot are very creative and interesting.  Rather than try to describe it here, I encourage you to read the brief "Part One."  Mequa is interested in receiving comments from anyone who is interested, so please feel free to post those on the Facebook Garden, or anywhere else you see comments available.
I hope you will encourage Mequa and also consider your own similar projects.  Epicurean Saying 27 states as follows: "The benefits of other activities come only to those who have already become, with great difficulty, complete masters of such pursuits, but in the study of philosophy pleasure accompanies growing knowledge; for pleasure does not follow learning; rather, learning and pleasure advance side by side."  
What better way to spend our time, in immediate pleasure, than to immerse ourselves in the study and application of Epicurean philosophy?